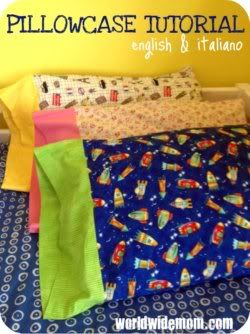 Circa un mese fa mi è venuta voglia di fare dei
copricuscini
per i bambini. Tanti copricuscini colorati per cambiare un po' i loro letti. Non avevo idea di come si facessero dei copricuscini ma ho pensato mi bastasse un pezzo di stoffa da cucire su due lati (molto professional eh?!). Al bancone del negozio alla domanda "
Quanta stoffa taglio?
" sono entrata un po' in crisi e proprio in quell'istante una bella signora sorridente si avvicina e mi chiede "ma che tipo di cuscino vuoi fare?" e le spiego. Poi mi parla di questa iniziativa molto bella per i bambini malati terminali, mi dà le misure e mi dice di andare a vedere la spiegazione sul loro sito.
Scorpo così che
ConKerr Cancer
raccoglie copricuscini fatti a mano da donare a tutti i bambini degli ospedali! Decido di prendere della stoffa in più e ci provo.
Ho trovato anche un ottimo schema fatto da
Made
di
Dana
che vi riporto perchè ha anche le misure in cm.
About a month ago I decided to make some pillowcases for my kids. Lots of colorful ones to change their beds. I didn't really had a clue on how to do that but I was thinking "I need a big piece of fabric that I will sew on two sides" (not very a professional, I know!). At Joann I got nervous when the lady asked me "How many yards darling?", but another very nice lady arrived and helped me right away and told me about ConKerr Cancer that collects pillowcases for terminally ill children. And she told me I could find a tutorial on their website. Great! I decided to buy more fabric and to start...
Here is an excellent pattern made by Dana, btw!
1. Prendete due stoffe di fantasie o colori diversi. Lavate, asciugate e stirate tutto.

Take two different and colorful fabrics. Pre-wash, dry and iron them all.
2. Piegate le stoffe a metà per poterle tagliare più facilmente. E seguite le misure indicate (potete essere flessibili ovviamente anche a seconda dell quantità di stoffa che possedete. Siate creative!)
Copricuscino: piegato a metà viene 66x52 cm (il che vuol dire che aperto è 66x104 cm)
Bordo: piegato a metà viene 28x52 cm (ovvero aperto è 28x104 cm)

Fold the fabrics in half so that's easier to cut them. Follow the pattern above.
Pillocase: folded is 26x20.5 in (that means that opened it'll be 26x41 in)
Border: folded 11x20.5 in (that's 11x41 in opened)
3.Piegate il bordo metà, stiratelo bene e unite le parti non rifinite (dalla parte tagliata. AIUTO qualcuno mi insegni ad usare i termini giusti!!!!) del bordo sulla parte dritta della stoffa del cuscino and fissatela con degli spilli.

Fold the border, iron it and m
atch up the raw edges of the border with the right side of the pillowcase fabric and pin the two pieces together.
4.Cucite il bordo e il cuscino insieme calcolando un cm circa (andate ad occhio) di margine di cucitura.

Sew the border to the pillowcase, using a 3/8 in or 1/2 in seam allowance.
6. Se siete così fortunate e possedete una taglia-e-cuci, rifinite i bordi interni oppure usate semplicemente un punto a zig zag. In questo modo la stoffa si sfilaccia di meno.

If you are so lucky to have a serger, serge of the seam. If you're not, just zig zag the edges.
7. Stirate le cuciture. FATELO SEMPRE. Regola che ho imparato da poco...


Iron your seem. Always do that, it it one thing that I just learned!
8. Fate una cucitura dalla parte dritta per fissare e anche per decorare. Non è necessario comunque.
Add a top stitch over from your seam. It is optional and is more decorative but it looks really better.
9. Mettete insieme le parti dritte della stoffa, fissate con degli spilli e cucite sui due lati.
Trucchetto che ho imparato (x principianti come me): arrivata all'angolo lasciate l'ago dentro la stoffa, tirate su la levetta della macchina da cucire e girate la stoffa, tirate giù e continuate a cucire.


Put right sides of the fabric together, pin them together and sew the two sides.
Little trick for beginners like me: when you get to the end corner, keep needle in place, lift your preser foot, and rotate your fabric and continue to sew.
10. Rifinite con taglia e cuci o zig zag le estremità della stoffa (o lasciate così).


Serge the edges or zig zag them.
11. Rigirate il cuscino facendo attenzione a spingere bene negli angoli e stirate.
Turn the pillowcase inside out and especially push the corners. Iron your pillowcase.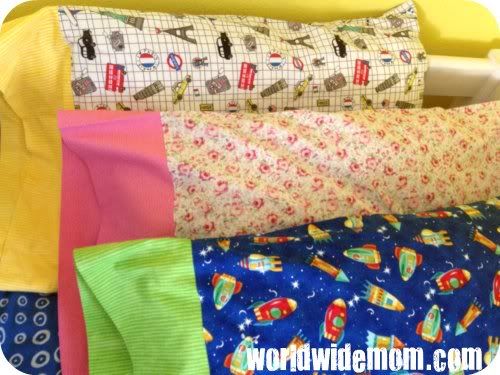 A special thanks goes to the amazing Tutorial @ MADE by Dana!
Un ringraziamento speciale al tutorial di Dana sul suo sito MADE!